Captain Arthur Frank Swain RN (1947–2011) Obituary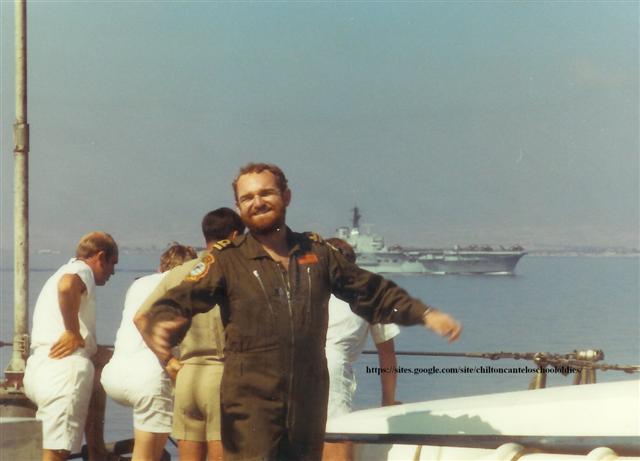 Ex Chilton Cantelo head boy Captain Arthur Frank Swain has sadly died aged 64 after a long spell of ill health in London on 30th September, 2011.
A message from Chris Thomas-Peter regarding the funeral that was held on 20th October at Mortlake Crematorium
A good turn out of ex-CCH pupils:  Richard Barnes, Adrian Brooking-Clark, Dave Wilson, Chris Thomas-Peter, Rupert Scott,Fiona Black (Frazer), Helen Cartier-Knox nee Mathieson and of course Arthur's sister Patricia Swain.  Condolences were passed on from Gerald Cramer, Nick Smith, David Cater, Mike Brake, Glen McLean, Brian Thomas-Peter and Genia Sarafian, all of whom either live abroad or were abroad at the time.  A moving ceremony was followed by a gathering of family, friends, colleagues and old school friends at a local hostelry.  Arthur had been in poor health for some time and he was fondly remembered by all.
David Wilson's funeral address in the memory of Arthur Frank Swain. April 29th 1947–September 30 2011
When Patricia asked me to say something today I readily agreed thinking that I would do my best to honour Art's memory. After all I had known him at school, been to his and Ita's wedding, saw him from time to time over the years and in the last 18 months had seen him at least twice a month.
But the more I thought about it the more difficult the task became. Who was this Arthur Swain who moved in and out of peoples' lives? Our lives are lived to some extent in compartments but Art's seemed to be more distinct and less transferable.
We all remember a man of great energy, vigour and a zest for life – always restless when constrained by authority and the petty rules of  bureaucracy, warm-hearted and generous, keen to be part of the pack but not at one with it. You have only to look at group photographs to remember his penchant for hats worn in inappropriate circumstances to realise that.
He was the life and soul of the party or as the Navy would say "a good run ashore".
So what shaped this man?
Born 29th April 1947 in Antofagasta, Northern Chile, his parents Arthur and Virginia had three children, Francis, Arthur and Patricia. His childhood was spent in a small and close community of mixed nationalities, the self-contained and self-sustaining settlement of Chuqui based around the copper mine which was one of the largest in Chile.
Weekends were spent exploring the desert, camping, hunting and fishing. There were also trips to Europe and London.
Trisha sent me some photos of these early days one of which seemed to capture some of the essence of the place. It was a picture of Art's parents in The Workshop. Father was repairing something at his work bench, his mother in an easy chair with a glass of wine and cigarette. Hunting rifles and woodworking tools hung on the wall behind hinting of adventure and self reliance. This was a place of wide open spaces and distant snow-capped peaks.
Art talked fondly of going hunting with his father and also his first pickup truck.
On one occasion when they had returned with a duck that his mother roasted in the oven the next day, the young Art opened the oven door and said " I told you not to let Daddy shoot you" As Trisha said he was always such a softie. She also describes this as a very happy time but somewhat cut short as they were sent off at 14 to boarding school in England. His father was also in the Navy during the War and was accused by their mother of trying to run the family home like a battleship. Family meals were important and lapses in table manners frowned upon, often being greeted with the comment "That sort of behaviour wouldn't do at the Savoy". This made a great impression on the young Art, as years later when he received his first pay cheque from the Navy he went straight up to London and checked himself into the Savoy, blowing a months salary in a weekend.
His first school in England was in Sussex I think, to prepare for the Common Entrance exam and this is where he first came under the wing of Donald and Audrey Beaton, Mrs Beaton being his guardian in the UK. This was the start of a long friendship with the Beaton family.
After Sussex came Chilton Cantelo School near Yeovil in Somerset. Chilton was quite a progressive school in the 60s. Established by Captain and Mrs Cotes-James to provide an alternative to the traditional boarding school, it met a gap in the market for the education of "The Baby Boomers" which of course we all are. Chilton had a very relaxed regime under the eccentric and mainly benign eye of the Cotes-Jameses: few rules, co-educational, no specified uniform except a tie and a requirement for clean shoes. Art thrived, pushing the few boundaries that existed even further, but finally turning from poacher to gamekeeper by getting made Head Boy.
Chilton had a gliding Club, Sea Cadets were compulsory and the roar of Sea Vixens and later Buccaneers were a constant sound track to school life as we were on the Yeovilton flight path. I think his destiny was becoming pretty clear by then.
The Navy provided the technical skills for him to earn a living doing the thing he loved most – flying.
He successfully completed the Basic Naval Officer Training at Dartmouth Royal Naval College despite all the rigours of the formal naval discipline. Art's habit of viewing rules and instructions as advisory rather than orders must have been held firmly in check during this period. He was very proud of his sword given to him by his father for the passing out parade.
After Dartmouth it was straight off to Aircrew Survival and Escape Training which meant two weeks out in the New Forest in midwinter foraging for oneself. The aim was to survive on your wits and own resources and nothing else, whilst being marched around and sleeping rough in lots of inhospitable places. Dire consequences would ensue should anybody be caught cheating. Prior to being kicked off the bus to swim into the centre of a lake where a rubber dinghy awaited to spend the first night, a rudimentary search of clothing was made for money or other hidden sustenance.
Staring starvation in the face Art along with Peter de Pond had sown a £5 note into his underpants. They evaded capture hiding in cafes and restaurants until they were eventually caught by the Military Police when a café owner having served them a hearty breakfast became suspicious of their dishevelled uniforms. They were marched in front of their superiors and berated for unofficer-like conduct. Next stop was Caldrose where he became a real pilot.
During this period he met Ita and they were married in Weymouth on a glorious summer's day. After the rigours of a full Catholic wedding the reception was held in the Beatons' beautiful garden at Waddon Lodge. Later when he was in the South Atlantic on HMS Endurance supporting the work of a survey team he was asked to name an uncharted headland that had been discovered, He chose "Ita Point". Many of us were very sorry when much later he and Ita split up.
I came across a Log of the 1974–75 trip of Endurance to the South Atlantic which had been written by the various sections on the ship. An early entry from the flight deck went as follows: "A week was spent at Portland doing live missile firings and Search and Rescue practices, on the whole quite an unnerving experience for the Greenies. We were worried whether the missiles would fire successfully and secondly aircraft 435 had a total electrical power failure during one of the SAR exercises. Brum Warton was heard to give a sigh of relief when 435 landed safely as did his Number One Steve Tomlin. Although the pilot Lt Arthur Swain didn't appear concerned at all."
Arthur, despite appearances, had a cool head when the chips were down and could be really focused. There was the time when he was flying his helicopter in Lyme Bay taking part in a summer demonstration with the lifeboat for the entertainment of holiday makers lining the shore. He was hovering quite close in when suddenly alarm bells started ringing and warning lights flashed; he realised the rotor blades had stopped and there was no option but to ditch in the sea. The crew went into their ditching drills and when the machine rested on the bottom evacuated the aircraft, making their way to the surface. On breaking the surface they were greeted with rapturous applause from the thronging crowds on the shore who thought they had just witnessed an exceptional demonstration.
After the Navy he had a short spell flying Charlie Haughey, then Prime Minister of the Republic of Ireland, around to his official engagements and some not so official. I remember there were questions in the Irish Parliament about the cost to the taxpayer of helicoptering building materials to Haughey's summer island resort off the south west coast of Ireland.
Then came Bristowes, the North Sea, Dubai, and finally Nigeria.
In Nigeria with his natural flying skills coupled with his warm-hearted and larger- than-life personality he flourished in what at times sounded more like the Wild West than the oil industry. He was a founder member of the Eket Formation Diving team as well as the Jug Music group. Needless to say there are many people over there right now who will cherish their memories of him.
It has to be said that his plans for his second marriage to Loretta and his retirement to Spain did not go as he intended. It was as if his luck had finally run out. Without the regular discipline of flying and the protective umbrella of Bristowes from the daily realities of life his diabetes began to get the upper hand, leading eventually to his return to the UK very disabled and much demoralised.
I saw him often in the care home in Southall and he was always much perkier when he had had a visit from his old friend and engineer Frank Webb who said of him:
"Art may not have been what I term a professional pilot but when he climbed into a helicopter it became part of him. I have flown with him many times and have always felt safe despite some of the nastiest weather we suffered in Nigeria. He could always be relied upon to complete a job."
The Image of Art on the order of service is one many of us recognise. He has just been posted to the Assault Ship Fearless which had a small flight deck of two helicopters and a relatively informal atmosphere quite different from the formality of the large Carrier HMS Albion which he has just left, and which you can see in the picture steaming away.
He is saying to us "I am Free."
Well he is free now and our memories of him will live on.
God Bless you Art.
David Wilson
Mortlake Crematorium  20th October 2011